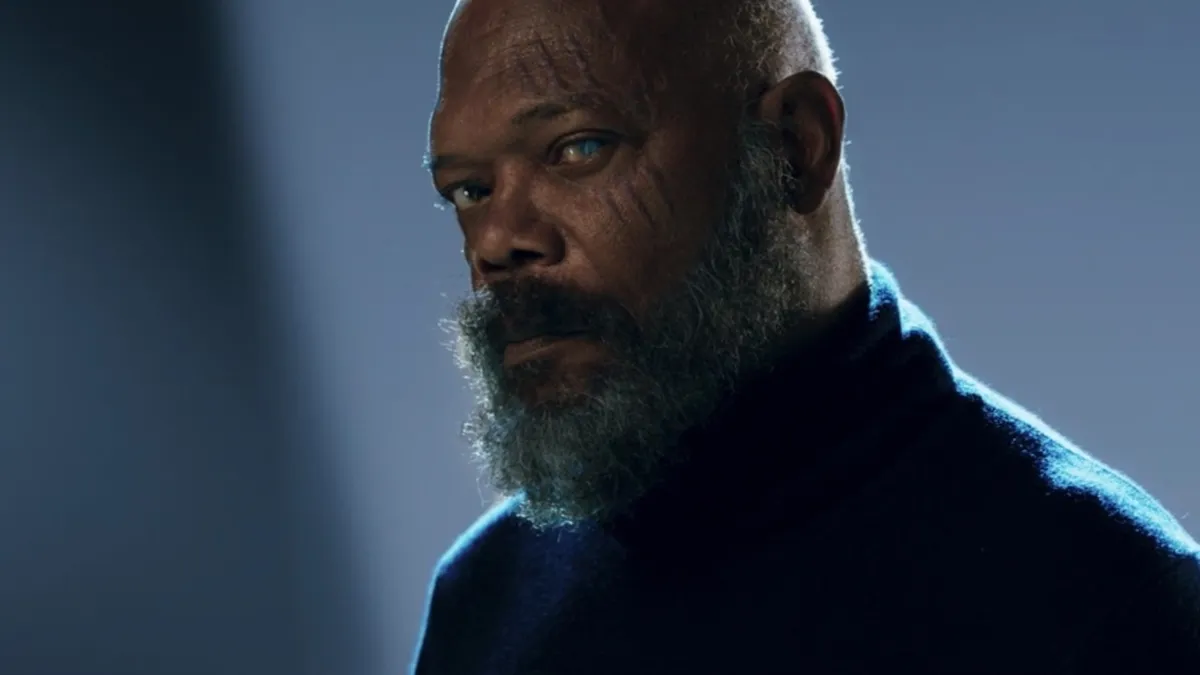 "Although a younger Nick Fury was an integral character in 2019's Captain Marvel, we haven't seen Samuel L. Jackson's present day version of the character prominently featured since Avengers: Age of Ultron, as he was dusted in Avengers: Infinity War, cameoed at Tony Stark's funeral in Avengers: Endgame and only appeared in Spider-Man: Far From Home's post-credits scene after it was revealed the Fury we'd been following along with was the Skrull Tales in disguise. But now we're not long away from the Marvel Cinematic Universe's Fury being placed front and center for the Secret Invasion series, albeit with one big change. This time around, he isn't wearing an eyepatch, and Jackson has explained why this aspect of Fury's look has been ditched.
Nick Fury and an eyepatch go hand in hand, whether we're talking Samuel L. Jackson's version, the original one from the comics or any number of takes on the character. So it was a bit surprising when our first look at Jackson in Secret Invasion back in November 2021 was him sans eyepatch. A year and a half later, Jackson informed Vanity Fair that the reason for this is not because his eye has healed from that Goose scratch, but because of the character's state of mind when we reunite with him, saying to Vanity Fair:
He just doesn't wear the patch. The patch is part of who the strong Nick Fury was. It's part of his vulnerability now. You can look at it and see he's not this perfectly indestructible person. He doesn't feel like that guy.
When we last saw Nick Fury in the MCU, he was aboard a Skrull ship enjoying some much-deserved time off, but after getting a call from Talos about how things went to hell in Spider-Man: Far From Home's main story, he decided to get back to work. Secret Invasion will see Fury finally returning to Earth, and while the trailer for the upcoming Disney+ show does open with a shot of him wearing the eyepatch, Samuel L. Jackson makes it sound like he'll toss it aside pretty quickly. This boils down to Fury feeling more vulnerable than he has in years past, and while Jackson doesn't explicitly say why this is, no doubt it has to do with a sect of the shapeshifting Skrulls having infiltrated Earth's population, just like in the original Secret Invasion comic book storyline.
Although Secret Invasion will also feature returning characters like Cobie Smulders' Maria Hill, Don Cheadle's James Rhodes and Martin Freeman's Everett K. Ross, this isn't one of those MCU stories where the Avengers will swoop in to save the way. The Skrull infiltration can't be stopped by throwing some punches and shooting some energy blasts; it'll be up to Nick Fury to suss out who are the people he can trust and who are the aliens in disguise. Whether or not Fury will feel more like his stronger self by the time Secret Invasion is over is unclear, but we can at least count on him making it out of the show alive, as he'll be back this November for The Marvels."
https://www.cinemablend.c .. ecret-invasion